Your commercial roofing system plays a critical role in protecting the building underneath from weather damage. Damage to a commercial roofing system isn't just expensive to repair, but it can also result in costly interruptions to your business. That's why it's important to take a proactive approach to roof repair and maintenance.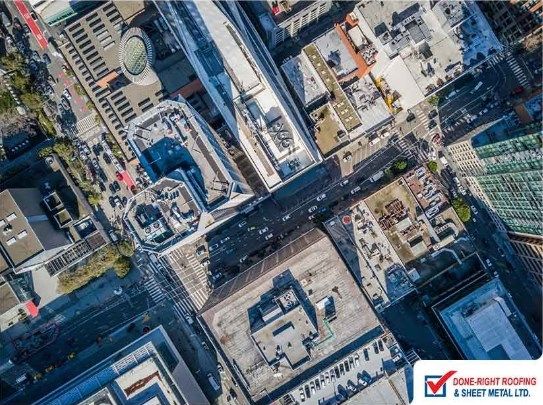 The sooner you call a commercial roofer to address even a small issue, the better. Here are the warning signs to watch out for:
Leaks – This is the most common roofing issue building owners have to confront. Water stains on interior ceilings and/or walls are a telltale sign that you have a leak. Note that the source of the leak may be in an entirely different part of the building from where you see the water stain. A professional can do quick work of tracing the source of a leak and repairing any water damage along the way.
Ponding – Ponding is caused by water that didn't properly drain. This can hasten deterioration in roofing materials. When gaps develop in the roof, leaks will result. Call a commercial roofing pro as soon as you spot ponding.
Sagging – Sagging is a serious problem that requires prompt attention from a professional roofer. In many cases, sagging will require full roof replacement. Don't delay addressing this problem.
When You Want It Done Right, Get It Done-Right!
Done-Right Roofing & Sheet Metal Ltd. is the roofing contractor to trust for all your commercial requirements. To learn more about what we can do for you, just give us a call at (905) 875-2888 or fill out our contact form. Ask us for a FREE, no-obligation estimate today! We also offer residential roofing products and services, including vinyl siding accessories.