If you need to get a new roofing system for your home this season and you're looking for an excellent alternative to asphalt shingles–then you should definitely consider a metal roof. This particular option continues to gain traction among many homeowners in the Campbellville area–and with good reason! Metal roofing is tough, long-lasting, and reliable. But this just one sentence isn't actually enough to describe it. To give you a better idea of what to expect from a metal roofing system, Done-Right Roofing & Sheet Metal Ltd. answers some of the most frequently asked questions about it.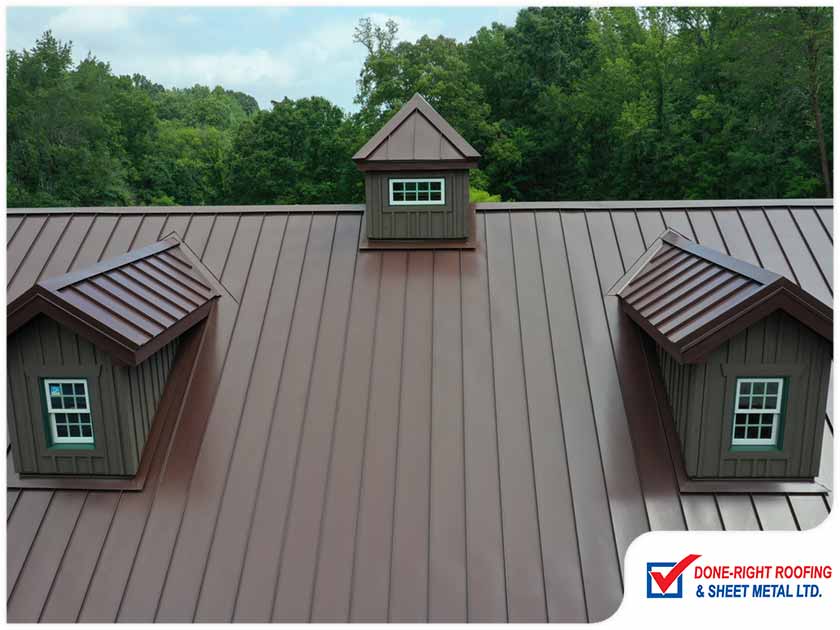 1. Is installing a metal roof on top of an old shingle roofing possible? It is possible, but not something a reliable roofing contractor would recommend. You'll want your metal roof to have a solid structure, correct insulation, and sufficient ventilation–but it may not have these essentials when there's a moldering roof still installed beneath it. Having the old system torn off completely before installing your new metal roof remains the best option.
2. How long does a metal roof last, exactly? The standard lifespan of aluminum roofing is 50 years, and if you pick something more premium, like zinc or copper, you can even expect your roof to last 100 years. Of course, proper installation and maintenance also plays a huge role in the longevity of your metal roofing system.
3. Can a metal roof help improve curb appeal? It sure can! Metal roofing has come a long way when it comes to aesthetics. Homeowners used to steer clear of it because it usually only graces barns and warehouses, but not anymore! Metal roofing is available in sleek standing seam panels that can give your home a modern and finished look. It's also available in a wide array of colors and finishes so matching it with your home's exterior is worry-free.
4. A metal roof is durable, right? Yep! Metal roofing is lightweight but durable. It can take on almost any weather condition, from high winds and rainstorms to blistering sunlight and hailstorms. Its sleek surface, for example, makes shedding off rainwater easy, and its interlocking panels help protect against wind uplift. Compared to other options, metal roofing is also more resilient, allowing it to withstand impact damage from hail better.
5. Is it true that metal roofing makes a lot of noise? Like most roofing options, a metal roof is installed with the necessary insulation that serves as both a thermal and sound barrier. That's why–if it's raining or hailing outside–a metal roof will generate the same amount of noise as other types of roofing.
6. Should you be worried about rust in metal roofing? The short answer is yes–but only if you choose a steel roof. Other metal roofing choices, such as aluminum and copper, are impervious to corrosion. These two latter choices may be costlier than a steel roof, but their rust-free performance and longer service life more than make up for the initial expenses.
7. Is metal roofing energy-efficient? Thanks to its inherent reflective properties, a metal roof can prevent unwanted solar heat gain, helping keep your home naturally cool and comfortable, while reducing your reliance on your air conditioner. Choosing a lighter color for your metal roof can also augment its reflective value.
Metal Roof Installation Perfectly Done-Right
Taking the DIY route is never an option when it comes to a metal roofing installation. Mistakes can be made, unnecessary damage can occur, and additional costs are to be expected when the job is done by someone untrained. The (always) better idea is to work with a contractor who has the right skills, training, and experience. And you won't even have to look far: Done-Right Roofing & Sheet Metal Ltd. works right in your area.
We're not just your expert in roof repair, we can also handle your metal roof installation. We offer high-quality standing seam metal roofing systems that can be customized to your choice of color, allowing for improved curb appeal. You also get to benefit from their tough and long-lasting performance, along with the solid warranty coverage included with them.
If you're still unsure whether metal roofing is the right choice for your home–no worries! The friendly yet professional team at Done-Right Roofing & Sheet Metal Ltd. will walk you through its pros and cons while giving you a detailed and accurate (and absolutely free) estimate to help you get started. When you choose us for this service, we'll make sure your metal roof installation goes on safely and smoothly, from start to finish.
More Reasons to Work With Us
Homeowners and property managers in the Peel and Halton regions know that Done-Right Roofing & Sheet Metal Ltd. will always do a phenomenal job, whether it involves flat roofing replacement or metal roof installation. In fact, we are:
Qualified to perform residential and commercial roofing work in your area. Done-Right Roofing & Sheet Metal Ltd. is fully licensed, bonded, and insured for your greater protection. All of our team members, in fact, are covered under the Workplace Safety and Insurance Board (WSIB), meaning you'll remain covered should anything untoward occur on your property. What's more, we are also deeply familiar with the building requirements and regulations specific to your area, so you know your finished roofing project will be completely up to code.
The go-to roofing company in the Campbellville area for nearly 30 years. With over three decades under our belt, Done-Right Roofing & Sheet Metal Ltd. ensures that every project we take on, from roof repair to gutter replacement, is completed in a timely and efficient manner, with zero potential for costly errors or callbacks. We want to make your roofing experience as smooth as possible–and we generally succeed thanks to our established and streamlined process.
Proud to be certified by top roofing manufacturers. Done-Right Roofing & Sheet Metal Ltd. aims to give you the latest, most advanced options for your roofing needs. That's why we've earned the GAF® Master Elite® certification, which not only allows access to top-tier roofing products but industry-leading warranties, as well.
One of the most well-reviewed roofers in the area. Done-Right Roofing & Sheet Metal Ltd. continues to provide complete client satisfaction through exceptional workmanship and customer service. This dedication is reflected in the high ratings and rave reviews we've earned on Google, Facebook, and Angie's List. We also currently maintain an A+ Rated status with the Better Business Bureau®.
Get Started on Your Roofing Upgrade!
With our established process, plus our trained and attentive crew, Done-Right Roofing & Sheet Metal Ltd. can help take the stress out of your roofing project. You can always expect more-than-satisfactory results, whether the job involves a flat roofing installation or gutter replacement. And if you need a sleek and high-quality metal roof for your home, we definitely have you covered! We serve Campbellville, ON, and the areas in the Peel and Halton regions. Call us today at (905) 875-2888 or fill out this contact form to schedule your roof evaluation. We'd love to hear from you!